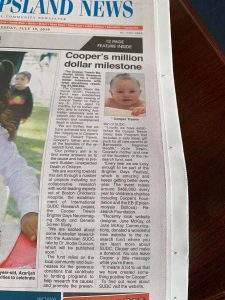 The Cooper Trewin Memorial SUDC Research Fund has hit a million dollar milestone with total donations reaching $1,089,854.
The Cooper Trewin Memorial SUDC Research Fund was established after the tragic passing of Cooper Trewin on the 6th of February 2010 aged 16 months for no known reason and is funding Australian advocacy and Research into the cause for sudden and unexplained death in children.
"We are thrilled that we have achieved this incredible milestone in Cooper's honour," said Robert Trewin, Cooper's father and one of the founders of the Research Fund.
"Our primary aim is to find some answers as to the cause and help to prevent Sudden Unexpected Death in Children.
"We are working towards this aim through a number of projects including our collaborative research with world-leading experts out of Boston Children's Hospital, the establishment of International SUDC Research project, the Cooper Trewin Brighter Days Neuroimaging Study and Genetic Screen Study.
"We are excited about some Australian research into the Australian SUDC Rate by Dr Jhodie Duncan which will be published soon."
The Fund relies on the local community and businesses for the generous donations that contribute to funding programs to help research the causes and promote the prevention of SUDC.
"Locally we have established the Cooper Trewin Sleep Safe Program that includes a safe sleep gift pack for all new parents at Bairnsdale Regional Health," said Kylie Trewin, Cooper's mum and one of the founders of the Research Fund.
"Every year we are lucky enough to be part of the Brighter Days Festival which is amazing, and keeps getting better every year. The event raises around $460,000 every year for children's charities including Cooper's Foundation and the EB (Epidermolysis Bullosa) Research Foundation.
"Recently local website designer, Jane McKay, of Jane McKay Communications, donated a wonderful new website to the Research Fund where you can learn more about SUDC, Cooper and make a donation. You leave Cooper a little message while you're there.
"It means a lot to us that we have created something positive for Cooper."